In today's society, procedures like veneers and the Hollywood Smile are all the rage. One of the widely used methods for enhancing a smile is veneers. However, they are expensive in many countries, and Turkey's dental clinics are outstanding for their high quality and affordability. Patients worldwide choose veneers as one of Turkey's most popular cosmetic dental procedures.


New dental treatment modalities are developed daily, and patients with dental issues are treated using various methods. The most popular treatments in Turkey are veneers, one of the best methods for treating tooth decay or loss. Several types of Veneers include E-Max Veneers, Zirconium Veneers, and Laminate Veneers. After reading this article, you will learn the answers to your questions about dental veneers.
What are Dental Veneers?
Veneers are thin, film-like coverings that cosmetic dentists apply to teeth for the Hollywood Smile procedure. Due to the ability to create an entirely new look while maintaining a very natural appearance, cosmetic dentistry veneers have become very popular. Turkey teeth veneers can help if you want a movie star-like smile but have minor cosmetic issues with your mouth. Another benefit of veneers is an increase in the teeth's resistance because they shield the surface from damage and have a hardness comparable to the enamel of natural teeth. 
The need for veneers may result from tooth fractures, cracks, bruises, or lumps. In addition, veneers can be applied to discoloured or damaged teeth for cosmetic purposes. The dental veneer procedure involves covering teeth with tooth-shaped materials to protect teeth that have experienced excessive material loss for different reasons. It allows you to alter teeth that are damaged, malformed, or have gaps between them by changing their size, colour, and shape. The solid tooth tissue endures slight wear during the procedure, so anaesthesia is frequently unnecessary.
Types of Veneers in Turkey
Custom-made resins are bonded over the front of teeth as veneers. The two most common types of veneers in the dental industry are made of porcelain and composite resin. Numerous sub-types of veneers, including E-max veneers, porcelain veneers, lumineers, and resin veneers, use one or both of these materials. Your budget, level of comfort, dental situation, and other factors will all affect your choice of veneer. Veneers are available in various shades and materials, but regardless of your choice, they will be thin, stain-resistant, and strong enough to withstand the normal daily wear and tear on your teeth.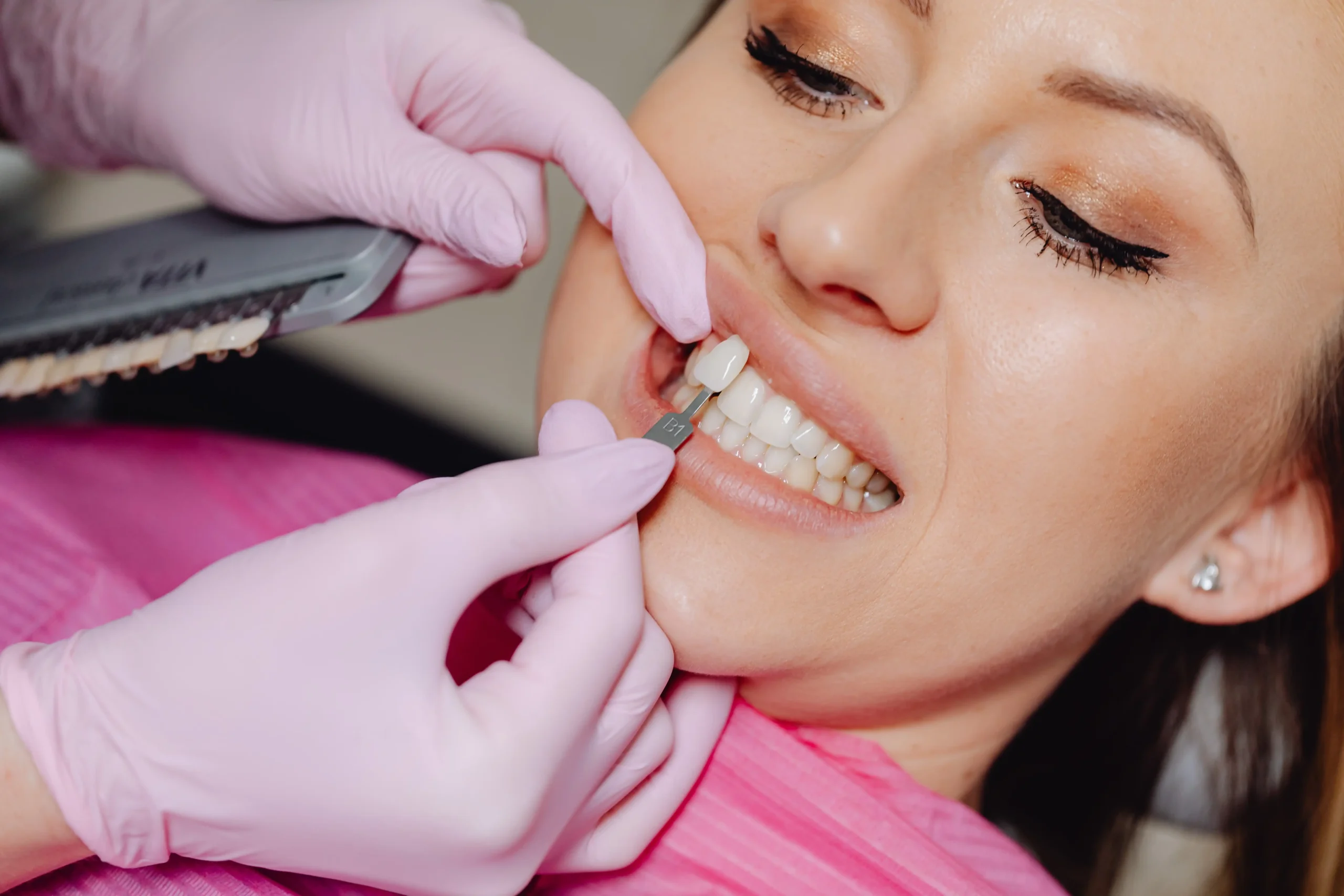 Porcelain Veneers
Due to their tooth-coloured ceramic shell, porcelain veneers are the most widely used appliance. It's been around since the 1930s. These veneers can withhold the biting pressure to some extent, in addition to mimicking the natural appearance of the teeth. Of all the veneer materials, it is the strongest and most durable. Porcelain veneers are entirely custom, tooth-coloured, versatile, and have a 10-to-15-year lifespan. Compared to composite veneers, they are more stain-resistant and made of ceramic materials. They are also biocompatible, so they typically do not harm the mouth's gum tissue or other soft tissues.
The placement of porcelain veneers necessitates some tooth shaving because they are a permanent fix. Our dentists will take an impression of your teeth before applying porcelain veneers to ensure that your custom veneers fit perfectly with your existing structure. Typically, during this appointment, temporary veneers are applied. Later, during your subsequent appointment, your new porcelain veneers will take the place of the temporary ones. After a few weeks, a second appointment might be required to adjust the bite.
Composite Veneers
Composite resin, which contains organic and inorganic components, is used to create composite veneers. The same bonding substance used to create tooth-coloured dental fillings is also used to create composite resin veneers. These veneers have been polished and smoothed to make them appear like natural teeth. Composite veneers are strong but do not last as long as porcelain. 
For composite veneers, only one appointment is necessary. Instead of being created in a dental laboratory, they are sculpted directly onto the teeth. Like porcelain veneers, composite veneers can be applied directly to uncut enamel and require tooth recontouring before placement. Despite being made from an inorganic material, composite veneers do not irritate the surrounding tissues or neighbouring teeth. Although they blend in reasonably well with your natural tooth colour, they do not last as long and are susceptible to stains.
What is Dental Veneers Treatment?
Distortion, separation, colour differences, or caries in the teeth negatively affect an aesthetic smile. People who have such tooth problems apply for Dental Veneers.
Dental Veneers are a preferred method of dental treatment as it is an easy and painless application. With the Dental Veneers applied on the tooth's outer surface, very thin shells are passed to the tooth structure. People have an aesthetic smile thanks to this application, which prevents damage to the surrounding teeth.
Dental Veneers treatment is a method that can also be applied in case of gaps between teeth. In such treatments, different treatment plans are made to eliminate the gap between the teeth. After removing the tooth cavity, the Dental Veneers application is started. Prof. Dr Atilla Gokhan Ozyesil offers treatments for all dental applications you may need for an aesthetic smile in his clinic. You can have the smile of your dreams with the right treatment planning and professional applications.
As Dr Ozyesil, dentists who are experts in their fields make Turkey a world-renowned country in treating Dental Veneers. Every year, thousands of foreign patients visit Turkey for Dental Veneer treatments. Turkey, which hosts the latest technology applications for dental health, has various dental clinics providing professional services. It is possible to access affordable and quality dental services in Turkey with high-technology products, professional practices, and correct treatment planning.
How Are Dental Veneers Applied? 
 Dental Veneers is a painless and effortless application. A preliminary examination is performed before the application. In the examination, general oral health and the health status of the teeth to be applied are examined. If there is no caries in the teeth, Dental Veneers are planned.
Thanks to the latest technological computer systems, smile design is made by considering the tooth structure and tooth colour of the people.
With a suitable design before starting the treatment, patients can see what their new smile will look like after the treatment. Design plays a major role in correct treatment planning. The veneer colour suitable for the tooth is selected, and its dimensions are determined. Then, personalized veneers are applied.
In the Dental Veneers application, shell-like tooth veneers are produced. Depending on the tooth structure of the person, small filings are performed on some teeth. Working with care and paying attention to this stage is very important. With the correct filing, rasping that will cause sensitivity in tooth enamel is prevented.
After filing, Dental Veneers adhere to the tooth surface with a special gel adhesive. The bonding process is completed in a single session. Scaling the teeth before Dental Veneers improves the result of the treatment. Therefore, professional tooth cleaning is recommended before the Dental Veneers process.
What are the Advantages of Dental Veneers?
Dental Veneers is an effortless application that allows people to have the teeth of their dreams. Contrary to the old traditional dental treatment methods, only the teeth to be veneered are applied, and no application is made to the teeth that will be excluded from this treatment. Other advantages of the Dental Veneers process can be listed as follows:
The materials used in Dental Veneers treatment do not have allergenic properties. Prof. Dr Atilla Gokhan Ozyesil takes great care to use high-quality materials in his clinic. In this way, treatment can also be applied to allergic bodies.
All colour tone options are available. This variation provides a coating compatible with people's natural tooth colour. After the treatment, there is no difference between the real teeth and the veneered teeth.
Dental Veneers do not harm the tooth to be treated and the surrounding teeth.
Dental Veneers are the reversible treatment method. After the operation, the veneers can be removed if the patient requests it.
In the Dental Veneers process, only the tooth's visible part is veneered.
Generally, there is no need for filing on the tooth surface. Dentists who are experts in their field, such as Prof. Dr Ozyesil, do the filing in a way that does not harm the tooth.
It is a long-lasting application with correct and regular maintenance.
In case of cracking or breakage, a single tooth can be renewed.
What is the Difference Between Dental Veneers and Dental Crowns?
Applications for Dental Veneers are being developed day by day. Dental Veneers, one of the recent popular applications, are a method preferred by many patients. Dentists who are experts in the field of Dental Veneers have also responded positively to this intense interest, and many dental clinics have been opened recently.
Another popular application along with Dental Veneers treatment is dental crowns. There are big differences between these two popular apps. The biggest difference between Dental Veneers and Dental Crowns is that the tooth to be treated is significantly reduced in the treatment of Dental Crowns. The tooth to which the Dental Crown will be placed, and the surrounding teeth must be filed in this treatment type. This makes Dental Crowns an irreversible treatment.
Moreover, if there is a gap between the teeth, these gaps can be closed with Dental Crowns.
Another difference between Dental Crown from Dental Veneers applications is that each surface of the tooth is covered in Dental Crowns treatment. However, in the Dental Veneers application, only the tooth's front surface is covered. In the Dental Crowns procedure, crown supports are placed on the cut teeth.
Who Can Apply Dental Veneers Treatment?
Dental Veneer is a method that can be applied to every adult woman and man who has completed their jaw and tooth development. It can be easily applied to people over the age of 18. There is no upper age limit for treatment. Before the treatment, the dental and oral health of the people is examined. If a problem is seen before the application of Dental Veneers, treatment priority is given to this problem. Then the treatment process can be started by planning for the Dental Veneers application.
Prof. Dr Atilla Gokhan Ozyesil also works on improving Dental Veneers treatments that were not applied correctly. The treatment is considered unsuccessful if people smile or laugh when uncoated parts appear on the tooth surfaces. You can take the first step towards an aesthetic smile with the Dental Veneers applications to be made in Prof. Dr Ozyesil's clinic. 
You can contact us anytime on WhatsApp, Facebook, Instagram, or our website.